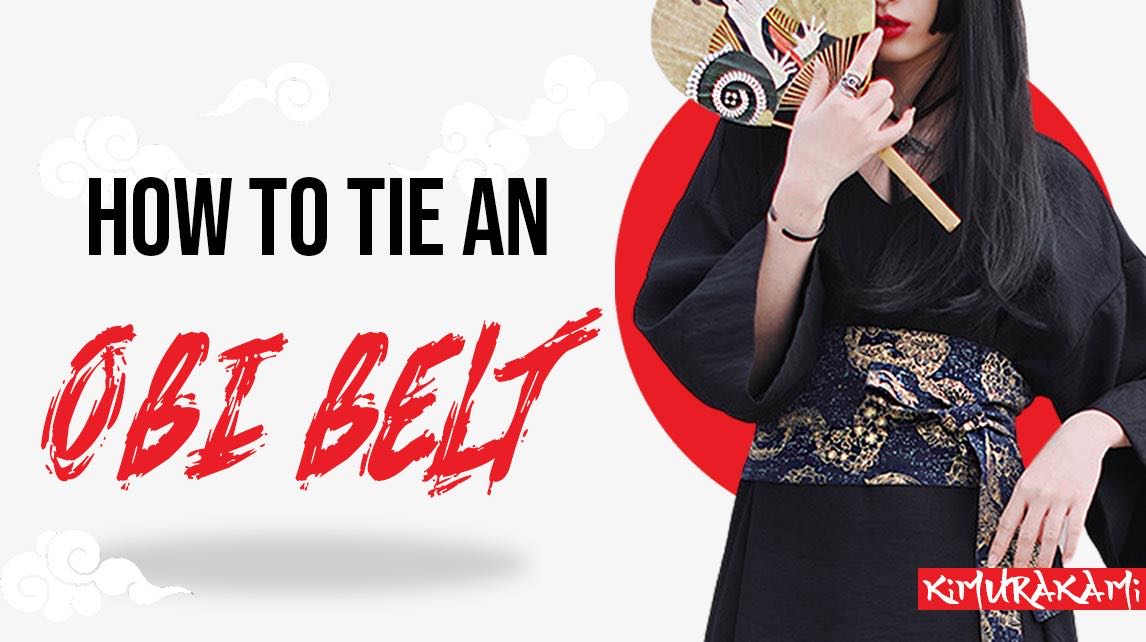 You will learn in this blog everything you need to know to learn how to wear an obi belt correctly with a kimono? We will first review the six existing obi belts and abd we will explain their differencies.

Then we will see how to proceed to fasten the belt without needing any help? Then we will look at the best way to match this traditional accessory, which as we will see, can also become a fashion accessory. We will finish by revealing how the belt should be worn on the most important occasions.

The obi belt is an accessory used to hold traditional Japanese clothes. It is used to wear kimono and all outfits adapted to combat sports. The Japanese belt is attached with an Obi knot. It is made of noble materials such as silk, cotton and linen.
What is an obi belt ?
The different Japanese obi belts
It is important to know that there are 6 different types of obi belts. Each one has its own style and must be worn in different contexts.  
The Maru Obi: In english, it means "circular belt". This belt has this name because its fabric has to be folded in two. The side that covers is identical to the covered side. It is the heaviest obi belt. Because it has the particularity to be decorated with a very elaborate decoration. It is therefore often worn for the most important occasions.
Fukuro Obi: This translates as "bag belt". It is so called because the sewing is done in two steps. It is the only belt that has a lining. It is always worn for formal occasions.
Hanhaba Obi: In our language, it means "half width obi". As the name suggests, these are belts that are half the width of the others. Therefore, they are much easier to fasten. That's why children often choose this one.
Nagoya Obi: Nagoya is a famous city in Japan. This belt takes its name from it. Its specificity is to be the smallest. This small size makes complex knots easier to make.
The Heko Obi: In the past, this belt was part of the Japanese military uniform. That's why it is called "young soldier". It is remarkably soft and thin like a spider web.
Kaku Obi: This one is called "straight and angular obi". Being much longer, it is designed specifically for men.
The Japanese belt for men, women and children
According to gender and age, Japanese tradition recommends different procedures. Compared to women, men will always wear belts with simple and discreet patterns. He should not wear too bright colors. Therefore, brown, navy and black are recommended. Women can afford to be more fanciful.

Also, men usually wear a very specific belt: the kaku obi. It is a longer and narrower model than the ones ladies like to choose (women's choice is not restricted, there is no belt they cannot afford).

There are also belts suitable for children. They are small and often have cheerful colors. Everything is simplified so that they can be put on as quickly as possible.
How to tie an obi belt?
Guide to tying the obi knot yourself
In terms of knotting, there are many possibilities. We can mention a complex technique called Tateya Musubi which requires you to be assisted. But to begin with, we strongly advise you to go for the easiest one by simply choosing a basic double knot.
To begin, place the middle of the belt at your waist. The length of the band on your left side should be the same as the length of the band on your right side. Then, bring the two pieces to your back. Finally, cross them to tie them together.
Have a look to this short video if you need help
Using kimono accessories
There are accessories that can accompany the obi belt. They are used to assist it in its support work. The obi belt alone can hardly hold the outfit in place and give it a nice shape.

Other accessories can be used to participate in the beauty of the outfit. The visual aspect is very important and is never neglected. Moreover, Japanese people often claim that the obi belt is a way to finish the job, and that it has above all an aesthetic utility.

Here are the three accessories for yourf traditional Japanese clothes:
Obiage: this is an accessory that is very similar to a scarf. When it is correctly worn, it is located under the belt and is not noticeable. It plays the most important role in maintaining the kimono.
Obijime: it is a big and thin rope which is attached above the belt. It can be used to hold a very large belt. But very often, it is more aesthetic than anything else.
Obidome: this accessory is purely decorative. It is a brooch which is clipped on the Obijime.
How to match your obi belt?
Kimono and Yukata
Japanese Kimono is not the only traditional outfit you can wear your belt with. The Kimono Yukuta also allows you to do so. It is a casual garment. It will be suitable for casual belts like Hanhaba obi and Heko obi.
If you still don't know how to distinguish a kimono from a Yukuta, we strongly advise you to consult our complete guide to traditional Japanese clothing.
Wearing the obi belt with everyday clothes
From the point of view of Japanese culture, wearing an obi belt without your traditional Japanese outfit is a curious practice. But you should know that Western women love it. So much so that it is not uncommon for top models to walk the runway proudly wearing this fashion item.
To match your belt correctly, nothing could be easier. Just make sure the color is consistent with your other accessories (like bags or shoes). It can easily be worn with a dress or a long tunic.
When to wear the kimono belt?
Wearing the Japanese belt at a wedding
Obi belts are so important to the Japanese that they can be worn on the most important occasions. During the wedding ceremony, the bride wears an intricately patterned belt. The knot is also very elaborate. Guests are also expected to make an effort to dress up by wearing a more elegant belt than usual.
Wearing the kimono belt at a funeral
Japanese tradition requires that a specific outfit be worn at a funeral. The immediate family must wear an obi belt, an obijime and an obiage. The whole ensemble must be completely black. On this occasion, it is agreed to choose a specific type of belt: the Nagoya obi.
Leave a comment