TOP 7 Japanese accessories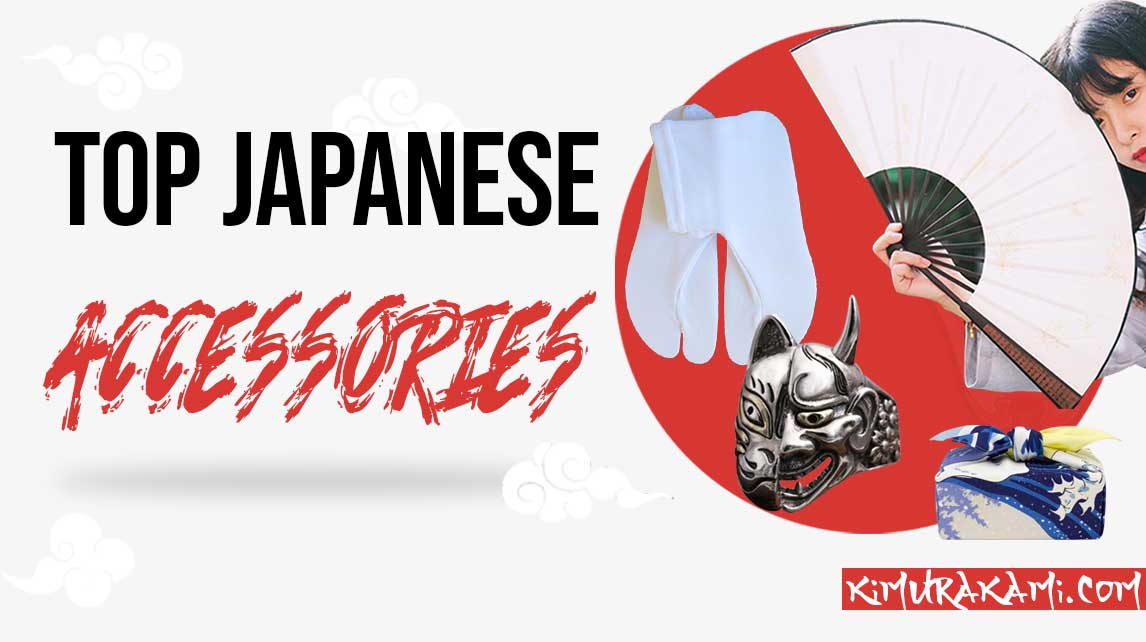 Fascinated by the Japanese culture and its aesthetic? Are you looking for products that would bring a little bit of Japan back to France? A gift to give to a fan of the Japanese archipelago?
We can't repeat it enough, Japan is a world apart. Its customs and habits at the antipodes of ours and its ability to project itself into modernity, without denying an iota of its history and traditions, make it an explosive cocktail for the senses of those who discover it.
So for those who had the chance to discover it, but also for the others, we decided to offer you a selection of our favorite accessories, typical of Japan.
Our selection of favorite Japanese products:
The temporary Irezumi tattoo
The Japanese fan
The tabi socks
The Japanese apron
The Japanese jewelry
The Maneki-neko lucky charm
The Japanese cushion
Everything you need to put a little Japan in your life!
Japanese Tabi Socks
Japanese geta sandal worn with white tabi sock
As a fan of Japan, its culture and folklore, you certainly have Geta sandals in your home! But you don't wear them because you don't have the socks to match!
Especially since, as a fervent detractor of the classic "sock sandals" that appear on our beaches during the summer season, you don't want to degrade the elegant image of these Japanese sandals (or hurt your toes)...
Good news! The Tabi Japanese socks are designed with this in mind! No more distorted socks between the two big toes by the hanao of the sandal.
Japanese jewelry
Japanese pendant depicting Oni samurai mask
It seemed difficult to us to propose a selection of Japanese accessories unavoidable without talking about jewelry ... Here too, they have managed to combine diversity with tradition and spirituality.

Far from being "simple" fashion accessories, these jewelry will be able to tempt you, for example, to convey values of protection and prosperity through a pendant with the effigy of the gods.
Whether you want to express your wisdom with a Japanese dragon bracelet or prefer to enclose one of your rebirth mantras in a necklace, your abundance of spirituality will be served by Japanese jewelry!
If you have values to convey in a Japanese style, you'll display them elegantly with these traditional Japanese jewelry.
Japanese Apron
The maekake is the traditional Japanese apron
Whether you suddenly feel like a sushi master or a master blacksmith in training to design your first katana, you'll need two things essential to the success of your small business...
First, it will take courage... A lot of courage to go through the 7 to 10 years of training required, to serve sushi like a Itamae (great sushi chef) and much more to come out with a blade worthy of the name.
But most importantly, you'll need a Maekake (Japanese Apron). Whether you want it colorful, sober and authentic or with the Maneki-neko logo, there is bound to be an apron for you!
PS: Don't feel like you have to go through an endless learning curve to wear a Maekake apron...some can even be worn under any circumstances!
Temporary Irezumi tattoo
The Irezumi temporary tattoo is Japanese accessory man perfect for a badass Yakuza look
If you're on this page, it's because you're undoubtedly attracted to Japanese culture... And we understand you! You've already been amazed by the level of detail in the tattoos on the backs of Yakuza to the point of saying to yourself "one day... I'll have the same one!"
Even though, historically, the wearers of these tattoos are rather frowned upon in Japan and are equated with banditry, the mafia or prisoners. In short, the tough guys we'd like to avoid crossing.
Your luck here is that you can enjoy it, without being a thug and especially, without having to go through the "rite" of bamboo tattooing. This method so dear to the tradition of Irezumi tattooing, would be so painful that it would definitely classify the wearer of one of these tattoos as a monster of courage!
With our Irezumi temporary tattoos, you don't have to suffer and you can get a "real life" idea of the tattoo you've been dreaming of getting without taking any risks.
Before...going under the needles for real?
Japanese fan
The Sensu fan is worn with a traditional kimono as a Japanese accessory for women or men
The Japanese fan, one of the most iconic accessories of the country. It combines elegance, finesse, femininity and exoticism in a shape that has been copied many times, but never equaled.
The Japanese fan has been used since the beginning of time.
Used for centuries, in turn for Japanese religious ceremonies, traditional dances or theater, before being used by shoguns and war generals during the Edo era. Geishas would eventually adopt it as the accessory of beauty and ultimate femininity.
Beyond the practical and useful aspect of the product, the Sensu Fan is a true work of art that offers a window into a part of Japanese history.
An absolute must-have for any follower of Japanese culture.
Japanese lucky charm
Maneki neko is a kawaii Japanese home decoration accessory.
It's impossible to miss! You're bound to have seen one before... The traditional Japanese lucky charm, which is called Maneki-neko, is the famous little white cat that wiggles its paw endlessly and is seen... Everywhere!
Whether it's on t-shirts, in manga, on the back deck of a car, or at the register of a sushi restaurant, the Maneki-neko is probably the most famous cat in the history of the world.
Of course, this cat doesn't have a monopoly on Japanese happiness; it shares it with theDaruma, a small statuette to whom one speaks one's wishes to come true.
Another typical lucky charm from the land of the rising sun is the Omamori, which comes as a small fabric amulet, to be attached to your keys, bags or worn around your neck, and whose meanings depend on the design. For example, the Omori Usagi is for those who wish to be successful in their studies. The Usagi pattern is a white Japanese rabbit...
These, too, are not just a banal fashion accessory to mark a difference. They have a meaning and are popular with all ages. No doubt there is a Japanese lucky charm for you!
Japanese Cushion
Zabuton cushion to use as a Japanese home accessory
For this last Japanese accessory, we're moving away from "wearable" items to bring you one of our favorite items: the Japanese cushion!
It's unparalleled in bringing a beautiful touch of Japanese style to any interior. Whether they dress up your bed, armchairs or sofa, the beauty of these cushions will leave no one indifferent.
The wide variety of designs is a great way to add a touch of Japanese style to any interior.
The wide variety of designs allows us to offer something for every taste, from kawaii to manga to Japanese authenticity with the stampsand patterns so characteristic of Japan...
Our collection offers all the styles to brighten up your home with beautiful Japanese pillows that will take you and your friends on a journey!
Give yourself a treat!
You've just discovered a small sample of our favorite Japanese accessories that are essential for any self-respecting fan of this culture!
If you were looking for accessories to enjoy your collection, our article will probably have helped you come up with ideas. In case you are in the position of the friend looking for one of the items to give to a friend who is "Japanese at heart", this selection will have been helpful for sure!"
We've got a lot of ideas for you!
We have no doubt that the items offered on this page will hit the spot once in your possession.
However, if you were overcome with insurmountable hesitation when choosing, let yourself go and take the time to visit our shop! (Given the selection, not sure if this really helps 😈)
Leave a comment