Japanese streetwear : style, clothing and fashion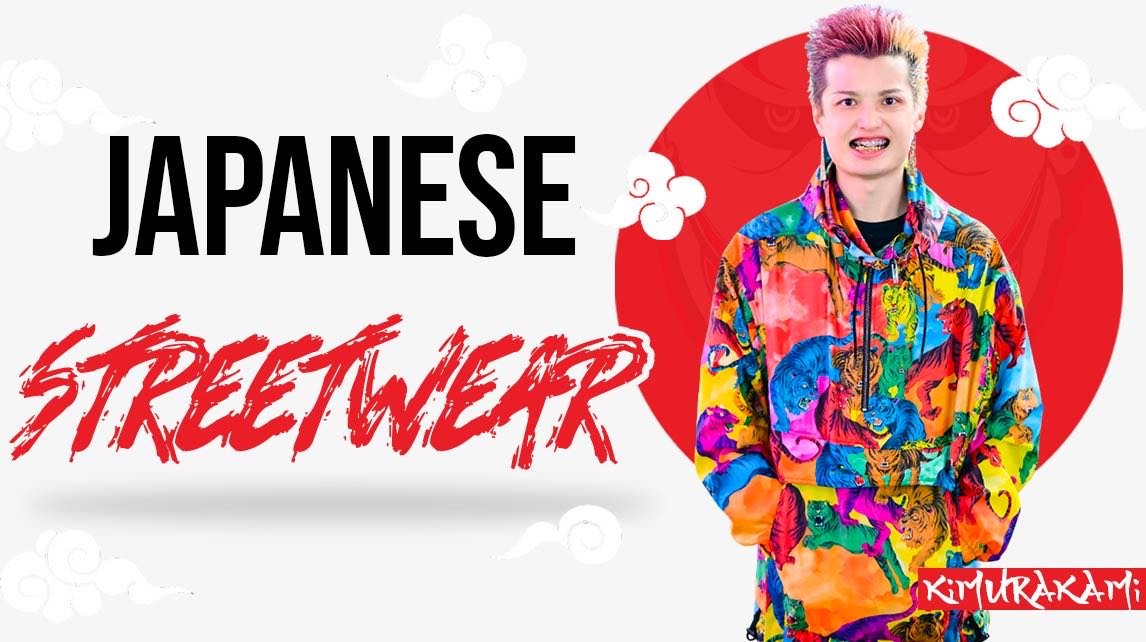 If you are a fashion enthusiast, then you must have already heard about Japanese streetwear. Would you like to learn more about this authentic style?
We will show you all the depth and authenticity of this Japanese fashion. We'll also give you tips on how to have the best style possible... But first of all know that...
Japanese streetwear style insists on the rules of Japanese society in order to represent unavoidable stylistic movement. The streetwear fashion of American origin has historically influenced the country in the rising sun.
In this article, you will discover:
The birth of streetwear style within Japanese society
The pioneer of Japanese pop culture: Hiroshima Fujiwara
The things to consider when getting the Japanese street style
Japanese streetwear is a modern, unisex trend that has become popular in Tokyo's Harajuku district. It is meant to be casual and original, going against the imposed rules of Japanese culture.
It's time to know the success that comes with this Japanese style. Let's dive into the heart of Tokyo fashion!
THE EMERGENCE OF STREETWEAR IN THE JAPANESE SOCIETY
Japanese history
Fashion defines streetwear as a modern yet casual unisex street style. It managed to capture the hearts of many Japanese "fashions victims", both men and women. This style became part of the Japanese culture and quickly became a must-have and timeless to the point that it influenced the West.
What is the story behind Japanese streetwear?
Streetwear is a clothing style originating from the United States that has been very present in urban areas since the 1980s. More than a fashion, this subculture gives birth to a rebellious movement that translates a young, free and non-conformist identity. It is inspired by the musical culture of hip-hop as well as skateboarding and surfing lovers.
The streetwear style spread around the world, reaching and influencing even Japan and its culture. At the time, the traditional kimono along with other ancestral clothing (haori, yukata, hakama, geta, tabi socks etc...) represented strict fashion in Japan. The Japanese kimono was used to differentiate social classes due to the quality of the fabrics used.
After the defeat of the Japanese empire in World War II, American soldiers during the occupation brought new clothing trends that merged with that of the Japanese community.
Japanese youth in the Harajuku saw in this new trend, a savior that would break the strict and ancestral rules. So these young people have created their own fashions, in order to send a message: to be able to dress as they want.
The difference between Japanese streetwear and classic streetwear
Japanese streetwear brands
It is very easy to distinguish the Japanese streetwear clothing and accessories, with the classic streetwear ones. For example, the hoodie where the t-shirt is illustrated by ancestral or modern patterns of Japanese culture. However, the cuts of clothing retain the same basics of classic streetwear, including a light and free look.
The removal of codes erected by Japanese society, favors wearing traditional clothing in a streetwear style. For example, it is common to see Japanese youth wearing a t-shirt with a kimono jacket.
In the classic streetwear style, we adopt wide sweatshirts (oversize) while the Japanese style offers ultra wide sweatshirts (ultra oversize).
These ultra wide sweatshirts worn by Japanese people, have a XXL size as well as much longer sleeves. It is a style that suits men but also, women. Western fashion fanatics are fond of the Japanese look, claiming the comfort and originality of it.
HIROSHI FUJIWARA, JAPANESE STREETWEAR PIONEER
Hiroshi Fujiwara
Talking about Japanese streetwear is impossible, without mentioning the central figure of this trend: Hiroshi Fujiwara. This man is known in Japan, as a popular DJ and appreciated by young people, for the quality of his hip-hop music. During his excursion to New York, he discovers two major trends: skateboard culture and hip-hop culture.
He meets Malcolm McLaren, a giant of punk and hip-hop fashion in New York in the 1970s & 1980s. He was inspired by all this culture, and decided to return to his native land, in order to introduce this trend in all Japanese dressing. There he met Shawn Stüssy, the creator of a brand whose goal is to combine musical and artistic culture.
He created the "Youth culture" effect with Hiroshi Fujiwara as the brand's ambassador. It was in 1990 that this casual fashion gained momentum in Japanese neighborhoods including Harajuku and Shibuya. The opening of several thrift stores in its neighborhoods propels Japanese pop culture globally.
HOW TO HAVE A JAPANESE STREETWEAR LOOK?
Japan's streetwear style is a casual look that has become extremely widespread around the world. The Harajuku district has become a key area for this fashion, with its "Harajuku fashion walk" event. No need for a catwalk to walk the runway, as the models take it to the streets every Sunday.
This is a real art festival where new urban trends are offered. If you're ever in Japan, don't hesitate to go down to this area of Tokyo to discover a fantastic Japanese universe.
Here are the clothes and accessories you absolutely must have in your dresser, if you want to look authentic...
The must-have street clothes or accessories
Headwears ( the streetwear beanie or cap )
This is a category of trendy accessories that are used to cover the top of the head. Although there are several kinds, there are two that are a must: beanies and caps. These casual accessories are inspired by sports such as the beanie that is worn by skateboarding fans.
There are two cuts for the streetwear beanie. The lapel beanie is a rather long beanie while its counterpart, the docker beanie, is short. The beanie is sometimes used as an anti-cold accessory, but remains a style accessory.
The streetwear cap can be worn normally or, alternatively, backwards which grants a hip-hop look to its wearer.
The streetwear t-shirt
Youth Japanese with anti-pollution mask
You can find illustrations of Japanese culture printed on Japanese streetwear T-shirts. To have a pure Japanese style, we advise you to wear a white T-shirtoversize with a loose jacket or haori (kimono jacket). Printed graphics can also be represented on this simplistic-looking garment.
Depending on the sartorial taste, opt for a loose fit or else, a piece that fits your figure. Japanese designers manage to combine Western style and traditional Asian style in a fun way. So it is possible to have an original combination mixing the classic European clothing style and the traditional Japanese clothing...
The sweatshirt and hoodie
Streetwear consisting of a set of black sneakers, printed pants, a hoodie and a denim jacket
The second must-have is the hoodie (hoodie). The crewneck, the hoodie where the sweatshirt are American sportswear. They whose appearance in the 30s. It is an important piece for streetwear and sportswear style.
A Japanese hoodie is a loose-fitting model on which is printed graphic or flashy patterns . There are usually dragon designs, sakura flowers, Tsuru cranes, koi carp on sweatshirts or even, ancestral Japanese Kanji symbols.
Japanese trousers
The Japanese pants
The inevitable and timeless jeans pants, has also been integrated into this urban style. A panel of choice is offered to you , because it fits all tastes . You can also choose your own cut, for example the slim, Skinny jeans, straight cut, etc.
You can also opt for either cargo pants or then jogging pants . They are both nice to wear throughout the day...
The sukajan: the Japanese jacket or Teddy jacket
Japanese clothing streetwear, the Japanese coat, Sukajan
The Teddy jacket is a staple of American and Japanese street style. This style of bomber jacket is called a Sukajan. It is coat worn by young American students or US soccer fans. It then inspired rappers who used it for their streetwear styles.
Sneakers or sneakers
To finish our tour of the streetwear wardrobe, let's now talk about streetwear shoes especially sneakers and sneakers. Initially considered as sports shoes, sneakers are now considered as a fashion movement. Since the emergence of streetwear style, they become very important to finalize the look of its fashion addicts.
For the latter, this shoe becomes a way of life . The biggest American brands, have conquered this market. You can choose between shoes with thick or thin soles, high top sneakers or low top sneakers. It is a piece of its own, which can not be neglected when you want to adopt this urban style.
How to have a streetwear style.
Japanese streetwear women with a cotton dress and colorful top
Japanese style greatly influences the fashion industry, worldwide. Failing to travel to Japan, young Westerners seek out Japanese shops online that specialize in the field. Japanese streetwear retains the same stylistic underpinnings found on American streetwear.
The little secret of the Japanese streetwear look
However, the growing popularity of the Japanese style comes from the artistic reworking of Japanese designers who make their works unique. Thus, there is a real cultural effervescence where Nipponese stylists combine the modern look with their traditional look. For example, you can wear a kimono jacket and a haori, with a loose t-shirt printed with Japanese illustrations.
No matter the season, perfectly adapt your style by adding hoodies or sweatshirts in your wardrobe. Don't forget sneakers or even pants, which have become essential for this street fashion. Finally, the Japanese style is unisex, whether it is for men's fashion or women's fashion.
Where can i buy Japanese streetwear?
Young man proud to be an ambassador of Japanese mens streetwear with a yellow streetwear hoodie
To buy Japanese streetwear clothes in a store, the best advice we can give you is to go directly to Japan. Here are our recommendations so you can find your happiness...
First of all, we recommend you to visit the district where the streetwear culture was born: harajuku. You will find hundreds of stores offering various styles and price ranges that can fit any budget. You can also go to the Laforet shopping mall where streetwear enthusiasts do their shopping.
Then go to Shibuya, it's a 15 or 20 minute walk from Harajuku district. There are very popular and trendy international brand stores like Supreme and Bape...
There is also the Dover Street Market in Ginza. Rei Kawakubo opened this concept store that features streetwear brands.
If you want a vintage style Japanese, you can go to Shimokitazawa district . Don't hesitate to go into the New York Exchange and Kinji stores...
How much does streetwear cost in Japan?
Harajuku fashion styles
In the beginning, streetwear fashion was quite expensive. Harajuku stores were mainly specialty shops...
In the beginning, Japanese streetwear was not cheap at all . Many Harajuku stores were specialty stores that imported their products from abroad. The cost of importing is extremely expensive in the Japanese archipelago which made the price of the products rise...
However, with the effervescence of this style among young people many chains of Japanese streetwear style stores have emerged (with affordable prices)...
If you travel to the land of the samurai, be aware that the popular streetwear brands are the ones with high prices. They play on the scarcity of products to create a sense of exclusivity to customers.... But we can still if it is normal to put a high price to belong to a trendy community, while the streetwear scans diversity, freedom and accessibility to all?
Fashion Japanese streetwear guide..
Japanese streetwear fashion women in the Harajuku district
American streetwear has a close connection with Japanese streetwear, thanks to their shared histories. Many brands promote streetwear to Japanese youth, who appreciate it. It is in Tokyo, precisely in the districts of Harajuku and Shibuya, that this urban clothing style is gaining momentum.
Dj Hiroshi Fujiwara remains the icon of Japanese street culture, and one of the influential people in this area. You can attend Japan's "fashion week" every Sunday, where people parade through the streets of the capital to showcase new trends. It is worth noting that the kawaii style of the Shibuya district known for its eccentricity, is the direct competitor of Japanese streetwear.
If you don't have the opportunity to travel to Japan, don't panic. You can find the streetwear style clothes directly on our Japanese streetwear online shop.... We have traveled to Japan and all over Asia to gather the best trends and streetwear clothes...
Our designs are inspired by japanese folklore and pop culture...
You'll find all types of streetwear, from oversized sweatshirts to printed T-shirts to cargo pants. You can also mix Japanese style with Western style, like kimono haori jackets and t-shirt.
After all, don't they say that the basis of streetwear is a mix of different countries fashion style? Have a look to our article about traditional Japanese clothing if you wish to know more about the different look you could have if you plan to visit Japan. You will discover everything you need to know about samouraï and geisha style (Japanese kimono, yukata, haori, hakama, Japanese sandals etc...)
Good reading to you 🇯🇵
Leave a comment