TOP 10 : Japanese movies by Hayao Miyazaki (Studio Ghibli)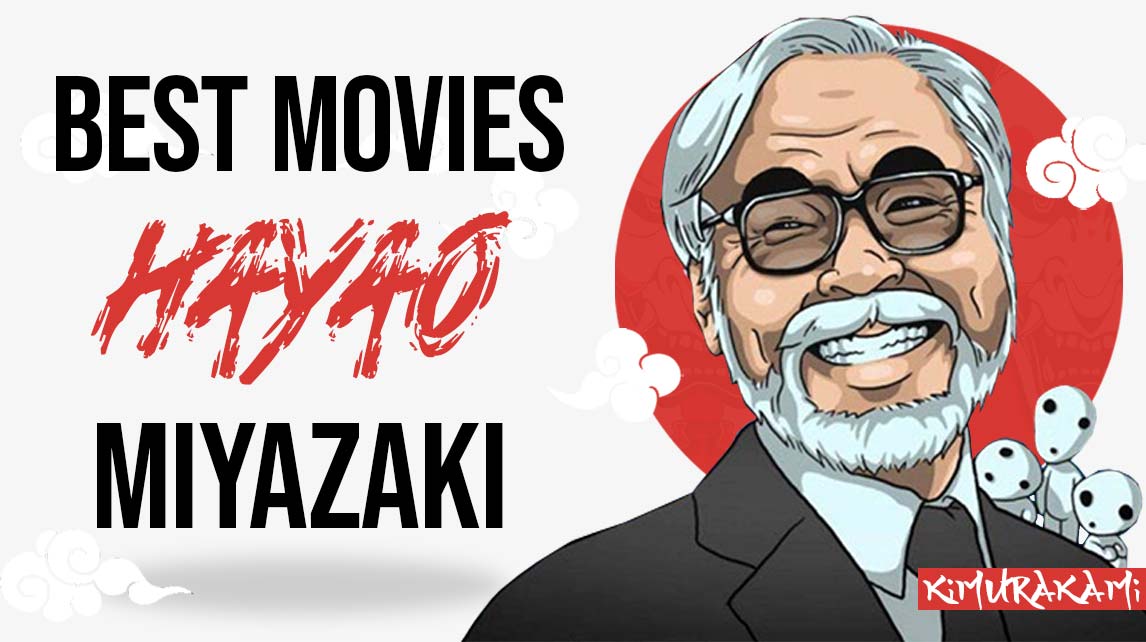 Are you a fan of Japanese anime? Do you want to discover the films of Hayao Myazaki? Are you interested in the cartoons of the iconic studio Ghibli?
Our TOP 10 will guide you! 
Who said anime was just for kids? Just watch one of Hayao Miyazaki's films to be convinced otherwise. Better yet, Miyazaki's genius is such that each of his films offers what might be called a double reading.
That is to say, the youngest will find their account, with their children's eyes, but adults too and will be caught up in stories in which both enchantment and deep themes are mixed. In this, we can say that Hayao's films accompany us for life. A bit like some mangas. 
In this article, we wanted to pay tribute to the work of the mythical director who will have made Japanese animated features known worldwide.
Our ten favorite Myazaki films are:
Nausicaä of the Valley of the Wind
Find out more about this selection below.
My Neighbor Totoro (1988)
My Neighbor Totoro is a anime film popular in Japan and especially abroad. The film was released in theaters in 1988, alongside another iconic Studio Ghibli film, Tomb of the Fireflies, starring Isao Takahata. 
The main characters, Satsuki and Mei, are sent to the countryside with their father to be closer to their mother who is hospitalized not far away. Mei and Satsuki will meet Totoro, an endearing creature, there. 
With her, they will make other unexpected encounters, such as that of Chat-bus and together they will experience strange events.
This film was such a success that the Totoro creature became the mascot of Studio Ghibli and can be found today in its logo.
Kiki's Delivery service (1989)
Since its release in Japan in 1989, the film Kiki the Little Witch has been beloved by parents and children around the world. It is the first Hayao Miyazaki film based on existing books. 
Kiki is a 13-year-old witch seeking independence. Despite her immaturity, her desire is stronger and she will eventually leave her home to offer an air delivery service! 
This is how the story of her life begins. She will travel from unknown city to unknown city, she will meet an amazing person who will become her new friend and she will face a personal dilemma.
Nausicaä of the Valley of the Wind (1984)
Nausicaä of the Valley of the Wind is Miyazaki's second film, and it touches on the director's cherished topics of pacifism and ecology. Studio Ghibli did not yet exist (June 1985) so it was produced by Studio Topcraft.
This story follows a young girl living on an Earth ravaged by humans during the Battle of the Seven Days of Fire that took place a thousand years before and whose mission is to prevent the destruction of an entire ecosystem. 
At the crossroads between Dune, Wall-E and Avatar, Nausicaä of the Valley of the Wind is a film by Hayao Miyazaki that is based on existing manga books. Mangas that were originally made by Hayami Miyamaki and resulted in seven volumes between 1982 and 1994.
Lupin III The Castle of Cagliostro (1979)
Released in 1979, Cagliostro's Castle is Hayao Miyazaki's first long film. It is based on the popular Lupin III series on which Hayao used to work as a trio with Takahata and Kotabe.
The story follows the adventures of Edgar de la Cambriole (Arsene Lupin's grandson) who, following the successful robbery of a Monte Carlo casino safe, realizes that the stolen money is fake. This motivates him to investigate to find the origin of this fake money.
He will then go to Cagliostro, which would be the place of departure of the network of this counterfeit money. On the spot, he will meet Clarisse.
The Castle in the World
The Castle in the Sky (1986)
The Castle in the Sky was the first film produced by Studio Ghibli for Hayao Miyazaki in 1986, a year after the studio was born in Japan.
The story follows two young children, Pazu and Sheeta. The latter possesses a magical crystal that attracts even the most unhealthy of lusts. Their quest to find their way to Lapunta's castle in the heavens and discover the power of this crystal will not be easy.
The story follows two young children, Pazu and Sheeta.
All of Hayao Miyazaki's films are the product of his vivid imagination. In this one, it will be about robotics, airships and a flying castle. Despite its old-fashioned approach to a futuristic universe, the themes of this film are more relevant than ever.
The Wind Rises (2013)
We jump into the future to get closer to our time. Specifically in 2013, the year Miyazaki's latest film The Wind Rises was released. It is a biography inspired by the life of Jirō Horikoshi, an aeronautical engineer who will bring aviation into a new era. 
The story is set in Tokyo during the Great Kanto Earthquake of 1923. It features the character of Jiro working on the design of a fighter plane (resembling the Mitsubishi A6M) and the heroine, Nahoko, with whom he will fall in love. 
Here, no fantastic creatures or magical powers, but rather the pragmatism of a historical drama about a man named Jiro, tortured between his duties and ideals and who built airplanes during the World War II. 
He considered airplanes to be beautiful and fulfilled a dream of mankind to fly and did not want them to turn into "death machines." 
Howls moving castle(2005)
The Walking Castle is one of Studio Ghibli's biggest box-office hits. 
Adapted from the novel by Diana Wynne Jones "The Wailing Castle," the film follows the footsteps of heroine Sophie who is turned 93 by the curse of a witch jealous of Hauru's feelings for her. 
Sophie then runs away so as not to reveal her new appearance to those around her. This is how she will discover the existence of the Ambulant Castle, or after many adventures, she hopes to find help there to cure the spell that was inflicted on her. 
Princess Mononoke (1997)
Princess Mononoke, released in 1997, became a important masterpiece by Miyazaki. He spent 16 years working on it and about three years making it. 
In 15th-century Japan, the warrior Ashitaka sets out to find the iron god in the hope that he will cure him of the gangrene that is gaining on his arm. During his journey, he meets Lady Eboshi, who fights against those who blame her for exploiting the forest's resources for the needs of her blacksmith community. 
Among his opponents is a wild princess named San who lives on her farm with giant wolves, whom Ashitaka will meet. He will do everything in his power to get everyone to live together on the same level.
Ponyo on the Cliff (2008)
Ponyo on the Cliff was released in 2008 and tells the story of a little goldfish girl who goes to be adopted by a boy named Sosuke. Ponyo enjoys her new life so much that she wants to become human, but her father, a former human who lives in the depths of the ocean, is adamantly opposed to this and forces her back to the bottom of the sea.
Ponyo is not a human.
Ponyo is undeterred and decides to run away to force her fate. But first, she will spill Fujimoto's elixir into the ocean. This will result in creating titanic waves that will engulf the village...
Porco Rosso (1992)
Porco Rosso is not Miyazaki's best known film, yet it is not lacking in interest.
The story is set in interwar Italy, on the Adriatic coast in the midst of the rise of fascism. 
The main character, a pig whose name is Porco Rosso (which means "red pig" in Italian), is originally a human being. He flies on a red seaplane as a bounty hunter and fights against hijackers and an American ace named Donald Curtis.
But Porco Rosso isn't just a bounty hunter. He also helps the weak and rescues people in trouble. Then one day, he'll be caught by love... 
Hours of escapism ahead!
Now, if you don't know what to watch tonight or during those famous rainy weekends, you'll be doing it on purpose!
On this page, you have hours and hours of masterpieces in store, enough to escape into the very abundant imagination of master Hayao Miyazaki.
The more seasoned among you will have noticed the absence of certain films like The Tomb of the Fireflies or The Voyage of Chihiro. We could have added them to make a TOP12, but we preferred to focus on other films that were less prominent, but just as deserving.
And if this list is too short to occupy your vacation, check out what is a fudanshi. You will be surprise about this Japanese manga style.
Leave a comment