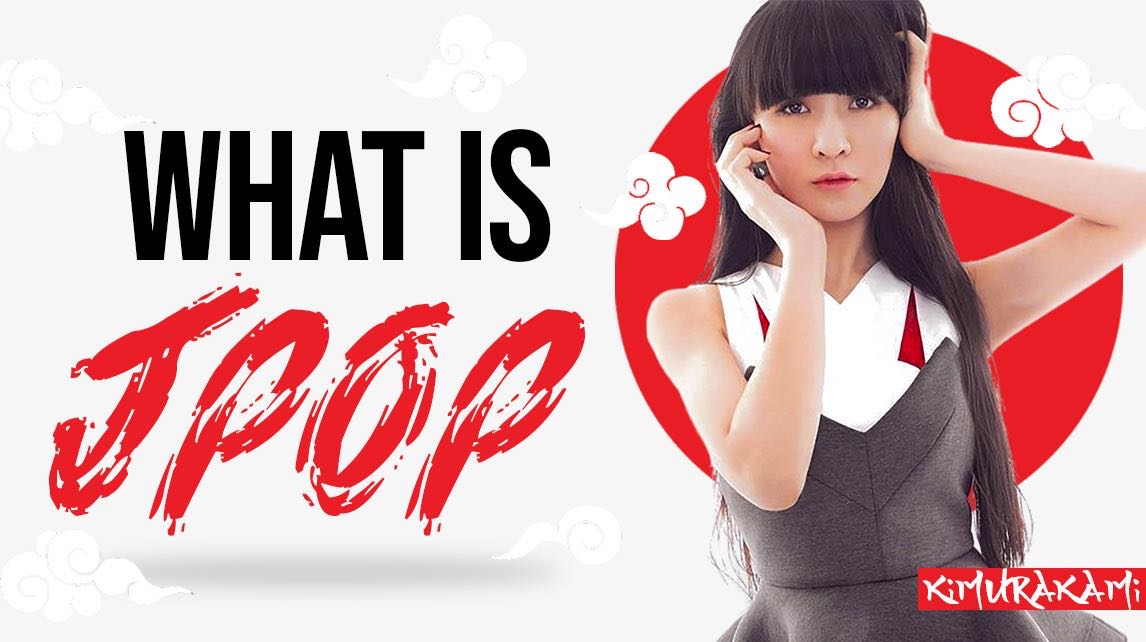 Japanese pop (ジェイポップ), pronounced je-poppu, is a musical style inspired by 1960s rock and traditional Japanese Enka music. The term Jpop is an abbreviation of Japanese Popular Music.

The Jpop word has been created by Komuro Tetsuya, the "father of Jpop" in the early 1990s. This musical style is associated with many other types of pop music in the Japanese hit parade. But it is only from the 21st century that J-pop evolves and frees itself completely from traditional Japanese music by opening itself to external influences.

So we will see in this complete guide about Jpop :
What is the origin of Jpop?
What The Jpop Style?
The 7 best Japanese idols
What is an aidoru?
What is the Jpop impact on Japanese culture?
THE ORIGIN OF JPOP
 Kayokyoku Japanese music
The history of J-pop music goes back to 1961 with Kyu Sakamoto's song "Ue Who Muite Aruko". This interpretation symbolizes the birth of modern Japanese music. This song is the symbol of the first bridge between J-pop and Enka (designates the first Japanese street singers). It is interpreted by a crooner whose model was Elvis Presley and the groove. This popular music was renamed Sukiyaki (Japanese dish) in the West for pronunciation problems. It is still today the only Japanese music to have been ranked number 1 in the United States.
1. Kayokyoku
It was from this moment that some Japanese musicians began to draw inspiration from the sounds of Western pop music in their cover or musical composition. This style of Japanese music was named Kayokyoku. It literally translates as : "lyrics singing music". This type of music was also influenced by enka which is a Japanese folk music.
2. The rise of Pop
The path of J-pop was opened in the 1970s by the Japanese duo Pink Lady. These artists marked a whole generation with their sexy outfits and choreography. They also made a difference by singing songs from their albums in English. They are the precursors of the first Japanese boy bands!

In 1990, the Japanese music industry was ranked second in the world. At that time, the Japanese artist Namie Amuro was produced by Tetsuya Komuro. His fame was such that his total sales were around 170 million yen (about 1.5 million euros).
3. Modern Jpop
Jpop groups composed of young Japanese women
Historically, the word Jpop was associated with all genres of Japanese popular music (apart from enka). But nowadays, it is associated with the over-hyped songs and the cute, bouncy starlets of Japan. These groups of singers and dancers set the concert halls ablaze with their songs with irresistible rhythms, idyllic choruses and naively cute lyrics. Each stage performance is often accompanied by choreography that is choreographed to perfection!

The quick observation that we can have on J-pop is that, this Japanese musical trend will surely continue over time, despite the influence of an rnb, hip-hop rap movement. One thinks in particular of the artist Hikaru Utada who has reached 10 million records sold. This is a record in J-pop!
4. Jpop vs Kpop
A member of the Bts group from South Korea and the Japanese singer Lisa Jpop / Made by Kimura Kami 
It is often thought that Jpop and Kpop have the same origin and are identical, but this is not the case. Kpop corresponds to Korean pop music which is a real worldwide phenomenon with famous bands like Bts,

The difference between Kpop and Jpop is based on :
The style
Marketing
Influence
The style
And above all, international accessibility
In order to better understand the craze for this music of the moment, we will see the particularities of this style of hybrid music.
JAPANESE HYBRID MUSIC 
J-pop is a hybrid music that fuses different foreign musical styles with the Japanese touch. It can go from a Rock n Roll style to a cute Kawaii trend!

A Jpop star is known and recognized for his music but also for his presence on different broadcasting media. J-pop is a good alternative for Asians looking for different and refreshing sounds.
1. J-pop in Asia
Jpop bands girl
J-pop is very widespread in Asia and is easily listened to because since the 70s, Jpop singers have been producing extremely popular music. It is important to know that J-pop singers do not only sell music, but also their images.

The singers are always beautiful young girls and boys who know how to sing, dance, talk, and dress. They can more easily identify in terms of culture with Jpop idols than with American superstars like Beyonce or Drake
2. TV Presence
Many J-pop artists (especially those managed by the Johnny & Associates agency) participate in Japanese TV series (drama). Japanese drama has greatly contributed to the popularity of J-pop in Asia.
3. Streaming
AKB48 members
In the land of the rising sun the laws are very strict for the music distribution and copyright. Even though Japan is very advanced in terms of technology, strangely enough, CDs are still a standard format for listening to music. That's why Jpop is much less accessible for international fans.

The rise of streaming has therefore popularized J-pop on the Asian market. No need to buy physical CDs. Some Japanese companies and music labels such as Sony Music Entertainment Inc. (SME) and Avex Trax use Hong Kong and Taiwan as a point to sell Asian editions of J-pop albums.

The CDs come with Chinese lyrics translation. Asian editions are also much cheaper (about 50% cheaper) than the Japanese originals which are only allowed to circulate in Asia (excluding Japan).
THE IDOLS OF THE POP SCENE 
Since the 2000s, girls bands have been generating huge profits. Male pop bands also have large communities of fans, but this is nothing compared to the craze for aidoru (female idols). This phenomenon is of such magnitude that they have created an expression of their own: idol sengoku jida. This means "the age of idol warfare".

Here below are the 7 greatest Japanese pop artists and bands!
1. AKB48


It is the AKB48 girls group who unquestionably dominate this star system. This Japanese girlsband was formed in 2005 in the otaku ("geek") district of Akihabara. This female band has its own concert hall. The singers go there to meet their fans or to give a show. The particularity of the group is that it is composed of about a hundred members.
They are all young women or teenagers in their twenties. They are divided into teams represented by a different color. They hold the japanese record for album and single sales in Japan. Their success can be explained by the close bond that the girls develop with their fans!
2. SMAP
The Japanese men's group SMAP is one of the best known in Japan. This group was launched by the #1 art agency in Japan: Johnny & Associates. It was the most lucrative men's Jpop group in Asia between 1988 and 2016. They sold millions of albums and singles. They were seen everywhere; in TV shows and also in movies. They even hosted their own show called SMAPxSMAP. Some of the biggest names in music have been on it, like Lady Gaga or Stevie Wonder. The band was disbanded in 2016!
3. Hikaru Udata
The singer Hikaru Utada is one of the best known j-pop figures outside the Japanese archipelago. This has earned her international features such as the one with the Dj, composer and music producer Skrillex!
4. Kyan Pamyu
She is an extremely popular Japanese icon. This Japanese singer is adored by teenage crowds for her songs and her Harajuku kawaii look. If you want to know more about her we advise you to read our complete Kawaii guide or our article on Harajuku fashion!
5. Baby metal
The Japanese are masters in the art of adapting and mixing musical genres to create new forms of music. The rock band Babymetal is a perfect example of this phenomenon. This J-pop group initially consisted of a trio of young teenage girls dressed in gothic Lolita and dolley-kei chic, mixing the kawaii and heavy metal styles. They are a new style of pop rock music. Supported by a group of professional musicians, the Kami Band, they have gained international fame, as much for their talent and the quality of their songs as for their daring clothing style.
6. Perfume
It is one of the most renowned groups in Japan and abroad. The group formed in the early 2000s exploded in 2007 with the single Chocolate disco! They join Universal Music in 2012, which will help propel their international career. Perfume's style mixes techno, electro, house and synthesizer sounds. They still have a unique approach to pop music! Their hits are listened to everywhere, from the radio to the dancefloor of discotheques!
7. Hatsune Miku
Hatsune is a Japanese virtual superstar. Originally created by Yamaha to represent Vocaloid 2, this digital pop star is now one of the biggest J-pop icons in Europe and Japan. In concert, his hologram is projected on screens. She collaborated with American stars like Pharell Williams or Lady Gaga!
8. Wotagei
If the atmosphere in Western concert halls is often overheated, this is nothing compared to the wotagei phenomenon. These are complex Japanese choreographies performed by the wota (fans of J-Pop idols). They wave their glow sticks during the artists' tours, it's a real show in itself. To see the wota in action, don't hesitate to watch the video above!
AIDORU: J-POP IDOLS
Scandal with MAHO YAMAGUCHI of the ngt48  group
Over the generations, Japanese parents have often considered their children's favorite singers as lacking talent, but this is even more true for the aïdoru (Japanese idols).

The members of boy and girl bands are created from scratch by powerful art agencies. Members are sometimes chosen specifically for their lack of musical talent in order to shape them according to the image of the band. Their members take acting lessons to learn how to behave or react in public.

Members of female bands, such as Morning Musume or AKB48, are chosen for their beauty and lack of rhythmic or vocal qualities. They are presented as kawaii to please their fans, who are often older men. Tales of exploitation and abuse abound, while these wannabe idols are poorly paid and often bound by restrictive contracts that go so far as to control their love life!

In 2019, singer Maho Yamaguchi was assaulted by two men. This aggression was allegedly commissioned by two other girls from the group!
IMPACT ON POP CULTURE
The Perfume Jpop trio doing a shooting 
However and in spite of the drifts, J-pop music is totally linked to Japanese culture! We see and hear it everywhere in stores, in commercials, in radio shows, in video games, in manga anime music.

The new J-pop music releases are numerous, which means that Japanese artists who don't break through can return to anonymity quickly if they are not productive and appreciated by listeners and fans. There is a lot of competition and it becomes difficult for them (and them) to stay popular in the long run!

If you enjoyed this complete Jpop guide, feel free to leave us a comment on it. We let you discover the kawaii and jpop inspired products on our Japanese store!
Leave a comment