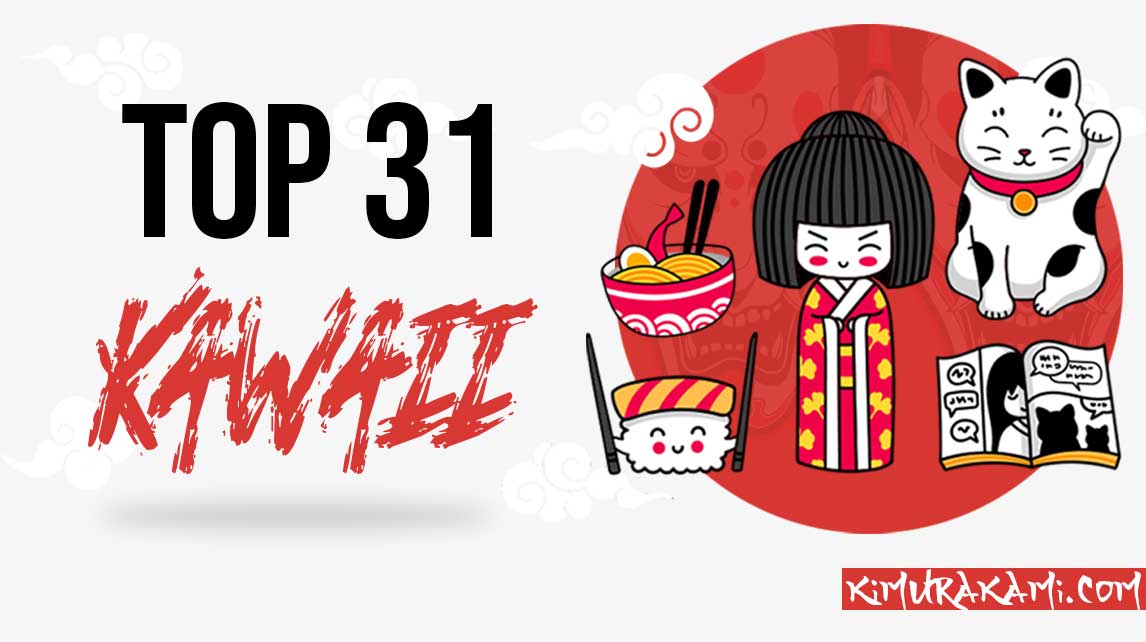 The term Kawaii means « cute » in Japanese. Kawaii word symbolizes a cute aesthetic in Japanese culture.
It is in the twentieth century that the word Kawaii has grown and has become a real trend or even a real fashion trend...
The kawaii trend can be found in many fields, such as art, fashion, leisure… The kawaii trend is nowadays omnipresent in the land of the rising sun whether it is in Japanese cuisine, puppies, calligraphy, manga, clothing style etc.
If you want to know more about this Japanese universe, we invite you to read our article entitled what is kawaii ? We explain in more detail the origin of this Japanese style and its importance within the Japanese culture
Here is a list of kawaii things you can find in Japan :
1. Maneki Neko: the Kawaii cat
It is quite possible that you have seen this little kawaii cat in a manga, an animated movie or the entrance of a Japanese restaurant or bar. These little lucky cats bring good fortune and wealth.
2. Daruma
In Japanese culture, the boddhidharma is the founding father of Zen Buddhism. The Daruma figurines were created in his likeness. These traditional figurines have existed since 1700. With the opening of Japan to the world and the modernization of the Meiji era, their appearance becomes more and more kawaii.
3. Origami
You know sûrement about the art of origami if you are passionate about the Nipponese universe you. This type of Japanese folding is an art that is considered elegant and can take on many beautiful forms. Japanese necklaces transform this art and adapt it to kawaii by depicting cute creatures and animals.
4. Amigurumi
Amigurumi is the practice of crocheting or knitting small stuffed animals and creations. These little creations are made to be adorable.
5. Manga
Did you know the wacky, imaginary world of manga?
You may have heard of manga such as Fairytail, Naruto, Dragon Ball, Pokemon… These are typically Japanese comics that have been permeating the Nipponese culture for years.
Throughout their adventures, kawaii characters make their appearance in their adventures. In the One Piece manga, the character Chopper is a cute little animal who accompanies straw-hatted Luffy on his pirate périple...
6. Kawaii Uniform: the kawaii students
Japanese Uniforms have an important place in the kawaii aesthetic.To illustrate our point, we advise you to look at the manga Sailor Moon which made all the Japanese youth fall in love in the 90s. Japanese women uniform is named Sailor fuku. Manga girls wore clothes and uniforms with curvy (but all cute) cuts.
7. Washi Tape
Washi tape is a Japanese sticky tape that is very hard-wearing. It is made from traditional paper nicknamed washi. In 2010, this ribbon was all the rage in Japanese craft stores. It's a great little accessory for decorating a room in a Japanese atmosphere.
8. Swan boats
On Japanese lakes, it is possible to rent boats, but also swan boats. These swan-shaped boats are difficult to handle but are very popular for their romanticism.
9. Kawaii Maid Japanese café in Tokyo
Many kawaii customs revolve around Japanese maid cafes.
In the Harajuku district of Tokyo, the cafes are decorated with heart shapes and pastel color. Even the food is colorful and too cute to enjoy a delicious meal. The kawaii cup in which you will enjoy your tea can even be the effigy of a cute little cat, a little fox, or panda etc.
10. Konpeito
These candies are considered « too cute » by Japanese people. They are made of sugar and have existed for several centuries. It takes between seven and thirteen days to produce them in order to obtain this so particular texture which makes their fame.
11. Kawaii Unicorns
The Kawaii unicorn is very popular among Japanese youth. There is a real craze about the vêtement kawaii that is called Kigurumi... It is a kind of long and large and comfortable pajamas that often has the shape of a cute animal: a cat, a koala, a panda or même Pikachu (a pokemon).
12. Ema
Ema are small Japanese wooden plates found in Shintoïstes shrines. It is possible to buy one and then write a vœu on its reverse side. Then it must be hung in the sanctuary. Beautiful designs are made on the front of these small pieces of wood.
13. The Japanese kawaii style of Harajuku 
The Harajuku district is the center of Japanese fashion but also the point of influence for Kawaii trends. If you're planning a trip to Japan, you absolutely must come and admire the kawaii outfits of the inhabitants of the land of the rising sun.
To sport a beautiful kawaii style, we advise you to wear for a woman a colorful and cute dress, lace, Japanese sweater, sweatshirt or flashy Japanese jacket. Don't forget to wear rainbow (or pastel) colors if you want or to mix a hip-hop hoodie with mini shorts or a skirt. The important thing is to add a childish, colorful and cute patchwork... Concerning the kawaii look for men... Mêmy advice...
There are several kinds of kawaii style including the gothic lolita or punk style that we like a lot... If you have the chance to go to manga conferences or the Tokyo games show in Paris, or the Japan Expo Sud, you will have the opportunity to see some participants wearing cosplay costumes or kawaii clothes...
14. Kawaii signs
Ironically, one of the things you can recognize as kawaii in Japan are the road signs that warn of deadly dangers!
15. Kawaii Jpop idols
You've probably heard of this Japanese musical style that emerged in the 1960s. The idol groups consisted of five to seven people. Today, they are sometimes more than fifty members. These Japanese women are seen in kawaii and often very girly ways.
16. Kawaii Mask
At matsuri festivals, you can find vendors selling Japanese masks à the effigy of popular pop culture characters. They can also represent characters from Japanese legends, such as the kappa gods, the kitsune fox god, or the famous samurai god tengu.
17. Komainu figurines
These are protectors of Shinto shrines. They look like lions. Many figurines of them are sold all around the shrines. They are represented in comical or kawaii ways.
18. Purikura
These photomatons are made in Japan. If you have the chance to travel to the land of the rising sun, don't hesitate to take some shots with friends for a unique souvenir.
19. Wagashi
Wagashi are Japanese sweets. There are all kinds of them, but all of them have the particularity of being small and cute!
20. Té Té ru Bozu
In order to bring the beautiful weather to Japan, little ghostly dolls called Teru Teru Bozu are hanging from the windows.
21. Kirigami
This is an art form that normally resembles origami. The difference is that in addition to folding, there is cutting. The idea is not to use glue.
If you watch anime or read all the manga, you've probably heard of Kyaraben. These are the boxes that Japanese colliers use to put their déjeuner.
Their appearance resembles animated cartoon characters, to make the meal more « cute ». The aesthetics of the dishes in Japan are very important, especially for children who love to make their dishes as adorable as possible!
23. Yuru Kyara
This term refers to the Japanese mascots of tourist regions, companies, and sports teams;
In 2010, Japan has seen an effervescence of Yuru Kyara.
They are prized for their kawaii costumes, but their unusual style sometimes makes them a little strange (this is just our opinion… . In 2015, the Federal Ministry of Finance said that it was a waste of money. There was a éstandard wave of layoffs in the profession.
24. Japanese candy
In Japan, the candy industry plays a capital role in the economy. Some brands have only existed for so many years but have become icons of the Japanese archipelago. One thinks of the Apollo Strawberry Chocolate, which was inspired by the Apollo program in 1960.
25. Jizo
Jizo, is a Japanese god (kami) who protected children in the afterlife. This Japanese statue has been reproduced in a million copies. They are so cute, that Japanese people and tourists sometimes dress them up in red bibs.
They have inspired the Japanese to create a new way of life.
They have inspired some anime characters, most notably the spirits of the forest in the manga Princess Mononoke by the studio Ghilbli. This is the same studio that made the Japanese animated film My Neighbor Totoro (or The Voyage of Chihiro)...
26. Hello Kitty
Did you know the Hello Kitty cat? She is the fictional Japanese character with the most ruthlessness in all of Japan. Her adorable face has been making a mark for 40 years now. She has become a household name in her own right. The fact that this character has no mouth would allow people to project their emotions onto Hello Kitty herself.
27. Japanese Kokeshi
Kokeshi dolls are made of wood and are traditional to northern Japan. They don't have arms and legs and are relatively simple, that's why a Kokeshi statuette is always too cute...  
28. Engrish
Engrish is the name given à the excès of English language use in Japan. It is possible to find it on western clothing, signs, or products like candy. This language is often filled with errors, but its use is often considered cute.
29. Akabeko
This small Japanese cow figure is popular in Fukushima Prefecture. It is used as a child's toy and a good luck charm. These small Japanese figurines are inspired by a legend from the 9th century. This one tells that a cow would have become Buddha at the end of the construction of the Enzoji temple before being transformed into stone.
The cow is the only one that can be seen on the picture.
30. Shisa Japan
In the Japanese mythology of Okinawa, the Shisa are guardians of shrines à the appearance between the dog and the lion. Today, they are the symbol of Okinawa city, and are represented with colorful, comical, and kawaii Japanese designs.
31. Construction sites
At construction sites, fences often take the form of cute animals. For a few years the rabbit was in the spotlight, but nowadays you can see other cute animals like the panda in particular.
The Japanese kawaii TOP
To conclude on this top 31, you now know everything about the kawaii things you can see and find in Japan ! Whether it's food, figurines, or characters, kawaii is of utmost importance in Japan, and normally takes up a lot of space within tourism.
The kawaii is the most important thing in Japan.
Don't hesitate to tell us what is more Kawaii for you?
Leave a comment