Japanese pop culture: origin, Japanese fashion and influence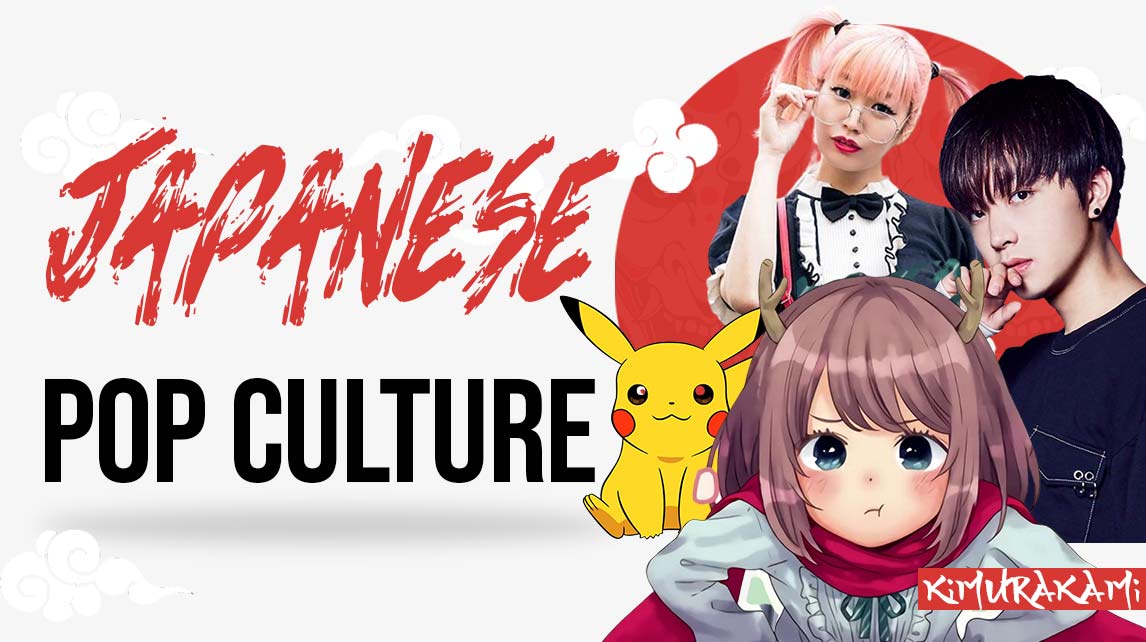 Do you want to learn about Japanese pop culture? Do you want to know more about the influence of this culture on the reåste of the world?
You'd suspect it if you're here, but Japanese pop culture leaves no one indifferent. Whether you love it or hate it, it inevitably makes you react, especially since the beginning of the 2000s when it took off to the point of becoming identifiable all over the world especially thanks to the effervescence of the kawaii fashion.
Japanese pop culture is the effervescence of arts that meet and express themselves through clothing, j-pop music, cinema, manga, cosplay or more globally, fashion. Not to mention kawaii, which is a state of mind in its own right.
Let's go and discover this rich and surprising Japanese popular culture.
WHAT IS JAPANESE POP CULTURE?
In a few words, pop Japanese culture brings together all forms of popular expression and entertainment in the Land of the Rising Sun. These forms can range from the most obvious, music or cinema for example, to others, less easily assimilated for a novice.

The common point between all these forms of expression is that they all have codes, often aesthetic, but not only, which allow them to be clearly identifiable and to mark their differences.
Let's look below at the means of expression used by Japanese popular culture.
MANGA CULTURE
Manga are absolutely inescapable and an integral part of Japanese cultural heritage. They are, for many, at the epicenter of a geek culture around which the various forms of entertainment specific to the pop culture of the Japanese island are articulated.
In fact, fans of this famous culture are referred to as the "otaku." Although sometimes pejoratively assimilated to people with "no social life", they are mostly passionate about this universe and strive to break this image (with cosplay movements in particular).
The origins of manga
The manga as such was created during a period of economic and cultural openness in Japan between 1868 and 1912.
The painter Hokusai is one of the greatest representatives of this mode of expression. He is not only responsible for the birth of this new artistic trend, but also for the creation of the manga word.
Launched in 1902, "Tagosaku to Mokube no Tokyo Kenbutsu" was the first recognized manga in the history of this cultural concept. Since then, the manga industry has grown phenomenally in Japan.
The arrival of modern manga
But the "father" of the popular manga of the millennial generation is Tezuka Osamu who will explode the phenomenon by creating the iconic "Astroboy"! Tezuka will inspire other artists who will become mangakas and will release Japanese comics such as Dragon Ball, Sailor Moon, Nicky Larson or Saint Seiya (the Knights of the Zodiac) to name a few.
Thanks to them, the phenomenon will open to the rest of the world and others will follow, such as Naruto, Fairy Tail, Attack of the Titans or One Piece, which is one of the most popular manga in history. In fact, it has just exceeded 500 Million copies sold!
Another equally impressive figure, in 2010, Japanese comics accounted for up to 25% of book sales in the Land of the Rising Sun!"
By dealing with a wide variety of subjects, manga manage to attract an increasingly wide audience with equally varied age groups. Thus, various styles have appeared: humorous, documentary, historical or the manga moe.
JAPANESE ANIME
Anime is a record-breaking form of entertainment in the audiovisual landscape. These Japanese animated cartoons are the big-screen transcriptions of many of the famous stories that can be read in manga.
The origins of the Japanese animated film
The first short film of anime was created in 1917 by Japanese animator Junichi Kouchi. However, it was not until 1960 that we saw first-rate anime such as Mazinger Z, the ancestor of Goldorak, produced by the same director, Kiyoshi Nagai (Gō Nagai).
Thereafter, cartoonists such as Tezuka Osamu (Astroboy, Star Blazers) and Matsumoto Reiji (Galaxy Express 999), greatly promoted the anime. The success abroad of series such as Doraemon, Dragon Ball, Saint Seya, Captain Tsubasa or even Pokemon is the striking proof.
Modern Japanese animation films
The great strength of anime (like manga for that matter) is that it can be classified into a wide variety of genres, from humor to thrillers to romances.
Finally, this genre of entertainment has reached the film industry, where the greatest current representative is Hayao Miyazaki, with his Studio Ghibli. These feature films such as Travel of Chihiro or Tomb of the Fireflies perfectly combine humor, social criticism and environmental activism.
JAPANESE CINEMA
Before the advent of manga or anime, there was already a great representative of Japanese culture Kurosawa Akira, whose fame is due to such cinematic successes as Ikiru (Living), Shichinin no samurai (The Seven Samurai) and Kagemusha (The Shadow Warrior).
Their films are set in historical periods of Japan and depict the social reality of the Kurosawa era. After him, the Japanese film industry experienced a decline in popularity, with the exception of Yoji Yamada, director of Torasan, who did not break through in our countries, but was able to find his audience elsewhere.
It was not until the 1990s that non-animated Japanese films regained international recognition. Thus, we will see the arrival of films like Hana-Bi (Kitano Takeshi) or Unagi (The Eel), and of course The Ring (The Circle), directed by Hideo Nakata and which was reproduced in an English version.
JAPANESE VIDEO GAMES
Of course, we can't do an article on Japanese pop-culture without discussing the video game industry, which is an important part of the "japan touch". It is the first expression of Japanese popular culture to be exported on a large scale around the world.
This will bring about a change in dogma, for unlike its past, when Japan imported foreign culture, it will become an exporting country and its influence will continue to grow in almost all forms of entertainment.
The birth of video games
This form of entertainment emerged with Space Invaders in 1978. Thisvideo game was first playable in arcades that were taken over by Japanese youth. Thanks to the revolution of video consoles, such as the Atari 2600 which would arrive at almost the same time, it could then be played at home.
The trend will continue with the appearance of new consoles, such as Nintendo or Sega, and great franchises such as Super Mario Bros, Sonic or The Legend of Zelda were born.
Another game would become very popular in the mid-1990s: Pokémon. Its success then saw it diversify by developing a manga universe that would be ported into anime, feature films and numerous derivative products.
Today, the video game industry has become the largest in the world, combining ever more visual realism, increasingly dense universes, complex music and plots.
COSPLAY MANGA
The cosplay is a relatively recent cultural phenomenon in Japan, becoming one of the main attractions at anime, comic book and video game conventions.
It's an entire subculture that includes a keen interpretation of characters, knowledge of design, and a large commitment of time and money to the point of being considered an art form in its own right.
The goal, of course, is to achieve the greatest possible resemblance to the protagonist being interpreted.
Definition of cosplay
The concept of cosplay comes from the phrase "costume play," which can be translated as "dress-up play." As mentioned earlier, today it can be considered a subculture in which its members seek to represent an idea or incarnate a character through costume and role-play.
Cosplay is usually inspired by manga culture with characters from anime, comics, movies, or video games. The person who dresses up and participates in this type of event like "Japan Expo" is called acosplayer.
The origin of the cosplay movement
Cosplay originated in the 1970s at comic book markets and fairs in Japan, where people began to gather wearing costumes of their favorite comic book heroes. Over time, this trend began to become popular around the world, reaching different audiences.
As a result, we currently see cosplay appearing in virtually every major event related to the comic book, Japanese anime and video game industries.
It has even reached film and literature withfans dressing up to attend movie premieres or the launch of fantasy novels. And this, even if the works in question have nothing to do with Japanese entertainment, Harry Potter is a particularly telling example, but it is far from the only one!
The influence of cosplay on Japanese society
The cultural repercussion of cosplay is undeniable, especially in a country like Japan where there are cosplay restaurants and bars in which waiters wear costumes! In this type of establishment, certain codes are followed so that customers can have a unique experience with cosplayers.
Cosplay might not be more than a temporary extravaganza built around fun and recreational elements if the process of creating the costumes were not so important! Indeed, it is usually time consuming and involves hard work to be handcrafted to the last detail. This is part of the culture of Japan.
THE KAWAII: CUTE JAPANESE THINGS
Kawaii is a Japanese word that means "cute", "adorable" and all the feelings on the spectrum of soft and sweet adoration. To approximate what it would mean if used at home, we could cite terms like "cabbage," "crunchy," etc.
What is slightly different about Japanese pop culture is that it can be used for anything! As a result, it is often used to talk about food, toys, fashion, habits, appearance, and many other things.
While the most demonstrative mode of expression of kawaii is in the clothing style, one should not make the mistake of reducing it to a fashion trend, as it is much more than that!
As far as Japanese kawaii fashion is concerned, some people imitate the behaviors of their favorite characters in Japanese manga and animated movies and thus more and more people look like dolls. The term kawaii is embedded in Japanese culture so strongly that it has become a highly recognizable identity mark in Japan and abroad.
The male counterpart of kawaii
On the other hand, there is the male equivalent which is "kakkoii" and translates as 'young, handsome, cool and attractive man. In this sense, "kakkoii" attempts to explore masculinity in fashion and in J-Pop groups.
The importance of accessories
When it comes to kawaii fashion, accessories are essential to perfectly accompany the outfit. Dolls, bows, socks, bags, backpacks, jewelry, ears... The kawaii style is expressed in pastel colors and cute patterns inspiring sweetness and joy. 
As far as kawaii fashion is concerned, accessories are essential to accompany the outfit perfectly.
On the other hand, outside of Asia, the term kawaii refers to Japanese culture, but this is a misguided shortcut since it is used a lot to refer to the Otaku lifestyle.
JAPANESE FASHION FROM HARAJUKU
In Japan's famous Harajuku, the world's epicenter of tomorrow's sartorial fashion, you'll find a variety of styles inspired by both local and foreign fashion.
As the streets of this district are a life-size fashion catwalk, you will be able to admire what is known as Japanese street fashion (or japanese street fashion) in a constant parade.
This fashion, which is not only avant-garde, daring or extreme, also features designs very similar to the haute couture seen on European runways.
Among the diversity of style, we find:
styles called Lolitas for women and Kodonas for men. Both styles have a Victorian feel that can range from Gothic, with dark colors and macabre elements, to childlike, inspired by fairies and fairy tale animals.
the Visual Kei, a flashy or androgynous style based on Glam Rock, Post Punk and Kabuki theater, which dramatizes everything and emphasizes a lot the makeup.
the Ganguro are a sub-movement of the Gyaru culture. These girls want to emulate California girls by dyeing their hair güero, tanning and putting on fake nails and lashes, all with a sexy and glamorous appearance.
The Decora style is psychedelic and acidic, with lots of accessories such as stickers, hair clips, headbands accompanied by tutus, stockings, tights or socks. The predominant color of their clothes is pink.
the Rockabillys who copy the style of the 50s, pretend to be rockers and want to look like Elvis Presley in their dances and music, but perform the songs in Japanese.
the Cosplayers, which we saw earlier, are those who dress up as characters from anime, Japanese manga, famous singers, "heroic fantasy" characters or Western comics.
the Hip Hop style is probably the most dominant. These fashion addicts have specialized stores for their outfits and some even like to do dance demonstrations in the parks.
Today, Japanese designers in general are characterized by the inclusion of architectural figures and bright colors in their clothes.
J-POP MUSIC: JAPANESE IDOLS
From the 1950s and 1960s, Western musical trends exploded and influenced Japan's music. The rock and roll of Elvis, the melodic sound of Bob Dylan, and the music of bands like the Beatles brought with them the emergence of new Japanese performers of hip-hop, funk, rap, punk, and other genres.
Japanese music has been a major influence on the development of Japanese music.
J-Pop can be divided into two categories:
Pop idols: idol singers are intentionally manufactured groups that achieve big commercial popularity through great media exposure and usually have short-lived success.
"New music": these are singers often solo or in groups who write their own songs. They usually do not appear on television and want to control their creative process.
One of the characteristics of J-pop is that they can be quite large groups, as is the case with "Exile" a group made up of 13 to 19 young men and "Nogizaka46" made up of 100 girls.
A group called AKB48 takes the concept further by holding a contest forthe audience to choose their favorite member. In the early 2000s, a new computer-generated genre emerged where software synthesizes a singing voice from the human voice while adding lyrics and melodies.
Pop music is the most popular form of music.
JAPANESE POP CULTURE: MODERNITY AND TRADITION
As you've seen, Japan's pop culture is so dense, eclectic, and daring that it's a trip in itself! What's interesting to note is that, as a traditional and conservative society, Japan initially knew how to open up to the world in order to be inspired by it... To better inspire it in turn!
This is undoubtedly one of the most successful feats emerging from the "Cool Japan" concept. The other success of this newly acquired cultural powerhouse is its ability to adapt to the modernity and effervescence of these "youth" trends while conveying the image of a country that loves and cherishes its ancestral traditions.
All of this, without the need for a new culture.
All this, without ever deviating from the application of its Soft Power!
After taking a tour of what constitutes Japanese pop culture, perhaps you would like to continue the discovery of this Asian Empire through the Japan history.
Leave a comment